James Meyer, Pringle Creek's Principal Planner, is a graduate of the UO School of Architecture, and now he is teaching there. And here. And at his office.
"The class is unique in that it will spend studio time in Eugene and on-site time in Salem, and we will be in the Opsis Architecture offices in Portland for midterm and final review of their project designs," says James.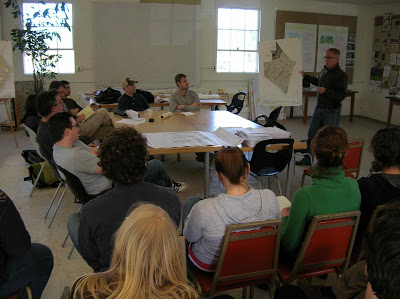 It is a graduate level design class titled Live-Work-Breathe. James will be co-teaching with Brook Muller, Dept. of Architecture professor. Their first on-site (Pringle Creek) class was held on March 4th. The students documented existing conditions and walked the area of the project where they intend to design nine live/work units.
Meyer had been in discussions with UO about the potential Pringle Creek offered for interdisciplinary study. The School of Architecture is considering creating advanced studies in broad based curriculum that focuses on building community within the rich ecological environment at Pringle Creek Community. This would be the first class.
"Teaching sustainable principles to a new generation of architects is very rewarding. It's a great experience. Going back to Lawrence Hall (School of Architecture) in Eugene was great nostalgia," says James.
Click here to see the course description.